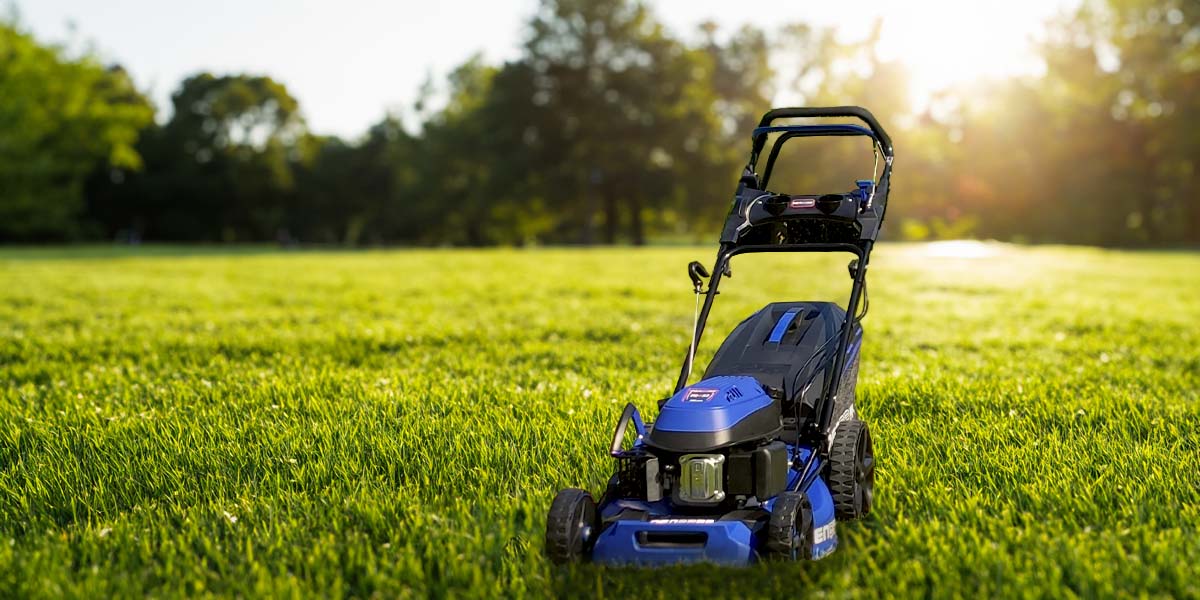 DENQBAR Petrol lawn mowers – Make the garden of your dreams come to life
A garden of your own to be proud of – this is the dream of every ambitious hobby gardener! For more and more people, gardening is one of the most popular recreational activities. After all, it is something very special to get something big going on one's own initiative and with a lot of heart and soul over a period of years. A well-planned and carefully tended garden fulfils many functions - for example as a source of peace and relaxation after a stressful day at work. But it also provides valuable services as a supplier of delicious fruit and vegetables or as a welcoming ambience for a stylish garden party with family, friends and colleagues.
DENQBAR Motorized mowers – Cutting edge lawn care at its best
With the solid gardening tools from DENQBAR, the dream of your own perfect garden will come true in no time. The experienced and competent garden specialist has everything in its extensive range that a gardener's heart desires. The heart of every garden is and remains the lawn. Its growth should be dense, healthy and lush. Thanks to the flexible and convenient DENQBAR petrol lawn mowers, any plain and barren lawn is quickly transformed into a perfect green lawn.
DENQBAR Lawn mowers – Grass with class
With their wide range of functions, the powerful DENQBAR petrol lawn mowers offer everything a lawn needs to thrive magnificently. The mighty petrol engines develop such great power that the cutting blades will even master particularly long or wet blades of grass. All of our mower models impress through their independent character: As petrol lawnmowers do not require any inconvenient power cables or rechargeable batteries, long operating times and free moving around the property are guaranteed. This way, even the largest garden is mown properly down to the last corner.
Conventional lawn mowers are also easily outshone in terms of effectiveness: Since the DENQBAR petrol lawn mowers have extra-large cutting blades, even huge areas (up to 3,000 m²) are mown rapidly. Plus, the following practical features make working with the mower a comfortable experience: A vibration-damped guide bar with soft-grip handle, a wheel drive, central cutting height adjustment, cleaning function and a huge grass box are standard features of all DENQBAR petrol lawn mowers. Our premium models offer even more extras. The practical E-Start function and the variable gear selection provide pure operating comfort!
On this page we present our wide range of petrol lawnmowers in detail. From the different performance classes, cutting widths and equipment details, you will sure find the model that perfectly suits your needs. Regardless of which model you decide on, you always get the best quality at the best price. This is our promise to you!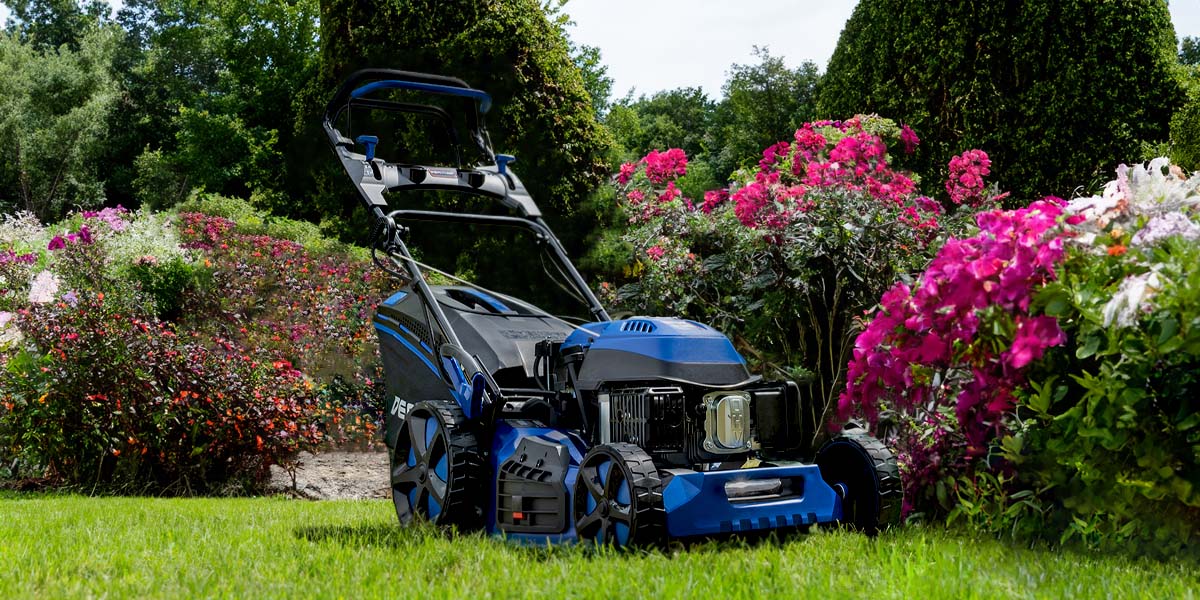 DENQBAR Petrol lawn mowers – Your shortcut to a perfect green
A healthy and properly maintained lawn is the centrepiece of any garden. Whether as a playground for children, a stylish ornamental lawn or an inviting place to lie down and relax after a long day's work - a lawn can have a wide variety of functions. What they all have in common is that they should be regularly taken care of. Because only constant care guarantees dense and healthy growth.
With the powerful and robust DENQBAR petrol lawn mowers, you have extremely helpful gardening tools at hand with which the necessary mowing work can be carried out quickly and effectively. Its extensive and practical features guarantee maximum ease of use, so that gardening becomes literally fun. Wheel drive, central cutting height adjustment, cleaning function, our ball-bearing Big Wheels or the vibration-damped handlebar with soft-grip, for example, are all part of the standard equipment. Also our pro models, offering an E-Start function and variable gear selection, make the hearts of all garden lovers beat faster. With a DENQBAR petrol lawnmower, the dream of the perfect lawn becomes reality in no time at all!