20

 meter

 | €6.00 / meter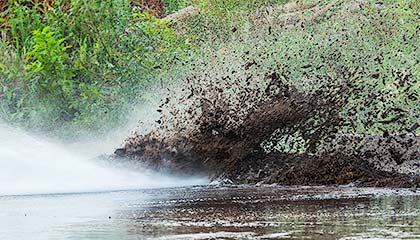 Outstanding performance of the petrol high pressure washer
Maximal water pressure of 250 bar and a water flow of more than 1,200 litres of water per hour - these are the key features of the DENQBAR cold water high pressure washer DQ-0108 competing in the professional league of mobile cleaning devices. This is made possible by the powerful petrol engine of the latest generation. With its impressive 9.6 kW (13 HP) power, it whips the water through the piston pump and pipes. Best cleaning results are guaranteed.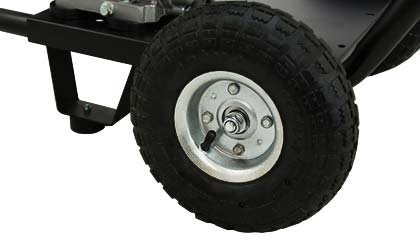 Unlimited mobility with the DENQBAR petrol high pressure washer
The cold water high pressure washer DQ-0108 is petrol operated, which means that you work completely independent of fixed main sockets. From now on, you won't have to worry about annoying messy cables. Expand your options with the possibility to suck from waters or tanks by a special filter. The large air-filled tyres in extra-large format ensure that you reach your areas of application quickly and conveniently.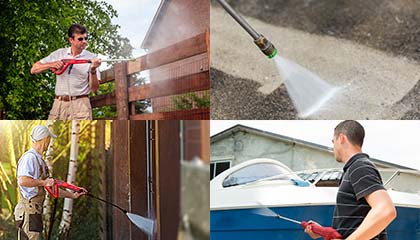 Petrol high pressure washer with 1000 possibilities
The DENQBAR high pressure washer DQ-0108 comes with a huge nozzle set. Whether for punctual cleaning or working area-wide - thanks to the five different nozzles you are well prepared for every challenge. Whether facade cleaning, terrace cleaning, car washing or as helpful support in workshops, boatyards or forestry operations: You can rely on the always brilliant results of the DENQBAR cold water high pressure washer!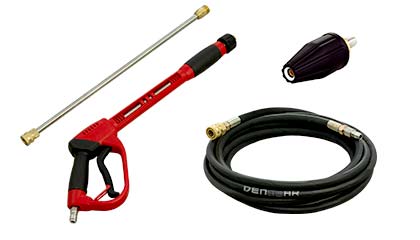 DENQBAR high pressure washers: high quality equipment and accessories
The main features of the DQ-0108 cold water high-pressure washer are components of consistently high quality and robust workmanship. This is demonstrated, for example, by the high-quality industrial piston pump, the innovative quick-change system, the high-pressure gun with soft grip insert or the robust high-pressure hose. In addition, we offer practical accessories for the DENQBAR petrol high-pressure washer. Order the DENQBAR dirt blaster and the 20 m long extension hose!
High pressure washer - Effectively fighting dirt and deposits
A high pressure washer is a device that releases a jet of water under high pressure from a nozzle. Purpose is the cleaning of sidewalks, terraces, garden furniture, machines, facades or motor vehicles. One of the most important components of a high-pressure washer is the engine that drives the piston pump. The sucked water is effectively compressed and set under pressure. Via various suction and pressure valves, the water flows through the high-pressure hose into the spray gun, where it flows out as a strong jet through a nozzle.
High pressure washers based on an internal combustion engine have a decisive advantage over the electric version: they do not require a fixed power supply for operation, only fuel. With a well-filled fuel tank, you are extremely mobile and the area to be cleaned is quickly finished. The enormous freedom of movement of the DENQBAR high pressure washer is enhanced by the large air-filled extra large tyres.
There are different performance classes for high-pressure washers, usually the classification is based on the respective water pressure. The entry-level class can handle up to 100 bar, while the mid-range segment can handle up to around 200 bar. With these performance characteristics, DENQBAR makes a water pressure that is otherwise mainly used in industry attractive for private users.
In addition to our high-quality high-pressure washer DQ-0108, you can also purchase suitable accessories from us. On the one hand we offer you a 20 m long high pressure hose as an extension. So you can increase the radius of movement around the high pressure washer by a multiple with just a few hand movements. In addition we have the helpful dirt blaster. The removal of particularly stubborn dirt (e.g. metallic oxidations, moss or verdigris on terrace floors) is no longer a problem for you with this rotating point jet nozzle. With the high pressure washer DQ-0108 and the original extension articles directly from us as manufacturer you can also be sure that all products are 100% compatible with each other.
With the powerful high pressure washer DQ-0108 and the helpful accessories, dirt has no chance. All this at the first-class price/performance ratio you have come to expect from us.